There's always that one poem – the one that makes 3am to 4am bearable. The one that says it all. This is a podcast where we get to talk about those poems.
Here on Poetry Says I get to chat with poets from Australia and elsewhere about what they're reading and how they create their work. We also tend to ramble about time, influences, goals, failures and keeping on going when things are tough.
I know the world of poetry can be daunting. This is my way of making sure you know the house of poetry is open to you, too.
Who's behind Poetry Says?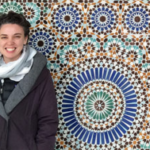 Poetry Says is produced by Alice Allan. I write for fun and wrangle other people's writing and websites to support this habit. I also produce the Verity La poetry podcast.